Copyright © 2017 United Faith Church | All rights reserved. No part of this publication may be reproduced, distributed, or transmitted in any form or by any means.
Below is a short video that goes with the sermon..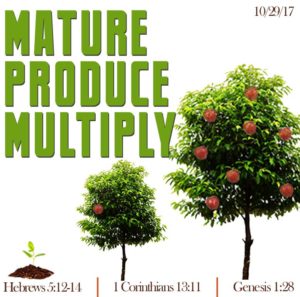 Hebrews 5:12-14 - In fact, though by this time you ought to be teachers, you need someone to teach you the elementary truths of God's word all over again. You need milk, not solid food! Anyone who lives on milk, being still an infant, is not acquainted with the teaching about righteousness. But solid food is for the mature, who by constant use have trained themselves to distinguish good from evil.
1 Corinthians 13:11 - When I was a child, I talked like a child, I thought like a child, I reasoned like a child. When I became a man, I put the ways of childhood behind me.
Genesis 1:28 - God blessed them and said to them, "Be fruitful and increase in number; fill the earth and subdue it. Rule over the fish in the sea and the birds in the sky and over every living creature that moves on the ground."