Copyright © 2017 United Faith Church | All rights reserved. No part of this publication may be reproduced, distributed, or transmitted in any form or by any means.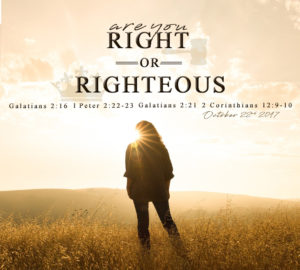 Galatians 2:16 – know that a person is not justified by the works of the law, but by faith in Jesus Christ. So we, too, have put our faith in Christ Jesus that we may be justified by faith in Christ and not by the works of the law, because by the works of the law no one will be justified.
1 Peter 2:22-23 – "He committed no sin, and no deceit was found in his mouth." When they hurled their insults at him, he did not retaliate; when he suffered, he made no threats. Instead, he entrusted himself to him who judges justly. Galatians 2:21 – I do not set aside the grace of God, for if righteousness could be gained through the law, Christ died for nothing!" 2
Corinthians 12:9-10 – But he said to me, "My grace is sufficient for you, for my power is made perfect in weakness." Therefore I will boast all the more gladly about my weaknesses, so that Christ's power may rest on me. That is why, for Christ's sake, I delight in weaknesses, in insults, in hardships, in persecutions, in difficulties. For when I am weak, then I am strong.